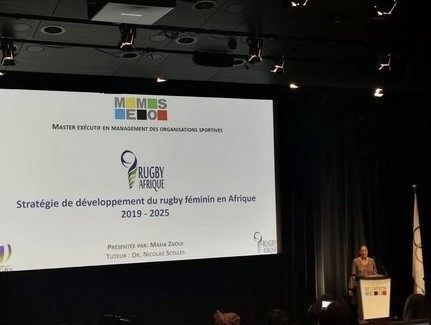 MEMOSian News: Ms. Maha Zaoui
MEMOSian Ms. Maha Zaoui as Women's Rugby Manager for Rugby Africa, the continental governing body of Africa member of World Rugby!  
MEMOSian Maha Zaoui, will be in charge of the strategic and operational development of women's rugby in Africa to increase participation and focus on high-performance. Her experience in this comes from her years as a board member for the Tunisian Rugby Union (since 2005). In 2008, on a scholarship from World Rugby, she joined MEMOS VIII, Fench Edition. Her MEMOS Project was on the development of women's rugby in Africa and she was shortlisted for the coveted Mandella Prize. 
Read more:
http://www.rugbyafrique.com/rugby-africa-appoints-womens-rugby-and-referee-manager/
http://www.francsjeux.com/breves/2020/02/13/lafrique-joue-la-carte-des-femmes/59190
Congratulations Maha, we look forward to hearing more about your work and appreciate your fantastic representation of MEMOS.