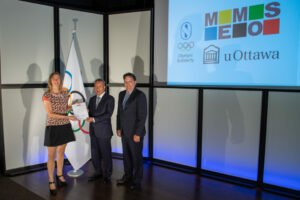 Madella Award Winner: English XXV
Since 2008, MEMOS Graduates have been considered for the Madella Award. After a pandemic-required hiatus, the tradition is back. This year, 6 MEMOS XXV graduates were considered for the award, Meli Cavu, Alexandra Triumph, Georgios C. Korellis, Jacoba Margaretha Agatha van den Ende, Ana Croger, and Krysztof Jan Jankowski.
The Madella Award recognizes a project graded as high distinction, which includes:
Having a strong purpose and research question to address a problem the host sport organization or system has.
Being properly theoretically grounded.
Having appropriate data collection and analysis methods.
Drawing meaningful findings that contribute to addressing the research question.
The most important criterion, however, is developing realistic recommendations and a strong, feasible action plan that will positively impact the host sport organization or system.
The Madella Award is typically determined through an independent panel that evaluates the candidates to select the winner.
This year's winner is Ms. Jacoba Margaretha Agatha van den Ende from Team Netherlands with her project titled "How to Develop a Plan to Incorporate Data & Expert Opinion In Olympic Athletes' Selection Processes". Congratulations! We look forward to hearing more about the project in the future!
Photo credit to: © IOC / Philippe Woods