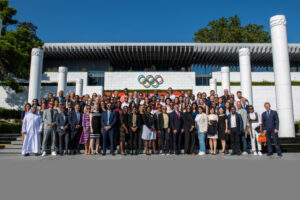 Congratulations MEMOS XXV and welcome MEMOS XXVI!
On September 9th, 2023, MEMOS XXV students presented their final project concept to the MEMOS Community in the Olympic Museum in Lausanne. Professors, Olympic Solidarity members, MEMOS graduates, new students from MEMOS XXVI, NOCs, and other sports organizations, family, and friends joined the presentations in the Museum and online. Immediately after their presentations, MEMOS XXV had their graduation ceremony.
Highlights of the day included an introduction and words of wisdom from IOC Vice President Ng Ser Miang, words of encouragement from MEMOS Director in English Milena Parent, and the awarding of this year's Madella Award.
As per tradition, both classes joined together later in the evening to share dinner and speeches. Other than Conventions and MEMOS Gatherings at sport events, MEMOS Graduations are one of the few times our classes from around the globe get to meet and interact with each other.
A huge thank you to each and every person who makes this possible and to the International Olympic Committee and Olympic Solidarity for their support and hosting.
"You got to try and reach for the stars or try and achieve the unreachable." – Cathy Freeman (Australia sprinting, Olympic gold medalist)
© IOC / Philippe Woods