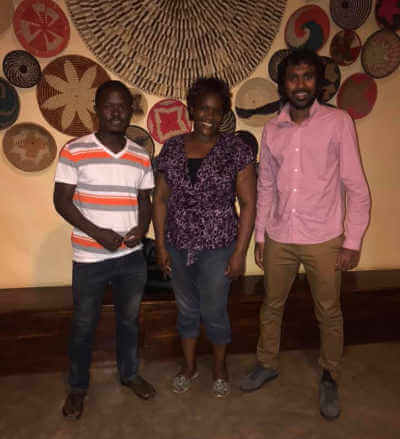 Memosian developing the African Universitary Badminton in Uganda
Memosians Sahir Edoo (Mauritius), Peninnah Kabenge Aligawesa and Musoke Hannington (Uganda) met in Kampala, Uganda, on Sunday 10th February 2018. Sahir who is the General Secretary of the Badminton Confederation of Africa (BCA) and a graduate of MEMOS V – French 2012/2013 was in Uganda for a training program that gathered 14 African countries on Shuttle Time. He took advantage the opportunity to reunite with fellow Memosians from the Federation of Africa University Sports (FASU) Peninnah Kabenge the Secretary General and MEMOS XIII 2009/2010; Hannington – Administrator and MEMOS XVII 2013/2014.
Through such a meeting FASU and BCA signed an MOU in July 2018, which was initiated through MEMOS contact in 2014 and the reunion on Sunday gave the opportunity to streamline the grounds for the cooperation between the two organization that would take Badminton to another level in University sports on the African Continent.
FASU has to this effect scheduled a badminton championship to take place from 21st to 22nd September 2019 in Mauritius to be preceded by the International Day of University Sports (IDUS) celebrations in the same country.
All this took place at the Ndere Culture Centre at the outskirts of Kampala where the trio enjoyed beautiful and irresistible music manipulated to express different moods, such as love, thoughtfulness, loneliness, sorrow, romance, happiness etc.