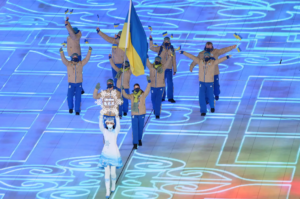 MEMOS June Coffee Break with Ukrainian Athletes
Hosts Marco Mazzi and Filippo Bazzanella hosted our June 16th Coffee Break with two Ukrainian athletes and one translator to provide us with some insight on what the athletes from Ukraine are facing at this time.
One athlete is currently based in Germany co-training with the German National Team. In order for athletes in and out of Ukraine to stay connected, they're using the same technology and techniques used during the pandemic. For example, videos sent to trainers give them the opportunity to receive critique despite not being in the same country.
A question from Marco Mazzi: What is the current relationship between Federations and funding for athletes?
Answer: Currently, funding has been diverted to the Army. Since many Federations receive their funding via the Government, this makes sense. At this time, this change has not a huge impact as the majority of funding provided was for competitions not training.
A question from Stavri Bello: As someone familiar with the Ukrainian model of school system for sport as Albania is similar, how effective do you feel it is in creating future champions?
Answer: Very, it is a great opportunity for kids to choose sport from the beginning of their education.
As Luc Vandeputte so eloquently summarized: thank you athletes for your time, we have a lot of respect for you and your dedication to Sport during this time. Best wishes.