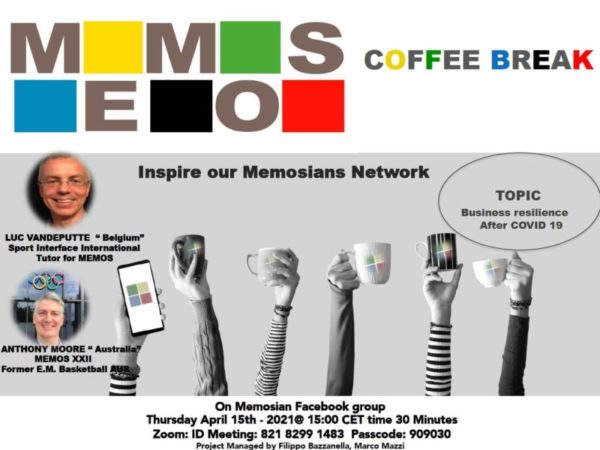 MEMOS Coffee Break April – Business Resilience in the Sports World
April's coffee break was a hot button topic discussing the resilience of Sport Business featuring Tutor Luc Vandeputte , Professor Luiggino Torrigiani and MEMOSIAN Anthony Moore from MEMOS XXII from Australia. Special thanks to coffee break organizers Marco Mazzi and Fillipo Bazzanella for putting together this powerful discussion.
As Professor Lisa Delpy pointed out, the pandemic wasn't the only reason resilience in sports business is especially important for all of us. Many factors come into play in the Sport World. In the USA for example, a Supreme Court Case heard in April is debating the current standards between student and professional athletes and the caps on their pay. For more information on this case: https://www.espn.com/college-sports/story/_/id/30530625/supreme-court-agrees-hear-ncaa-athlete-compensation-case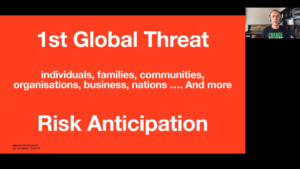 Tutor and MEMOS Alumni Network Coordinator, Luc Vandeputte shared data and trends for the Sports Market with us. Some trends we wouldn't have expected 2 years ago – informal leisure activities are on the rise "Athleisure" and digital access to expertise is more important than ever. Some trends we may have seen coming – higher sustainability consumer's expectations, retail is under pressure to shift to Direct to Consumers and social media influencers are moving to "digital communities" for brand visibility. He gave us some key things to keep in mind for our organizations and business – supply chain agility is crucial, how to approach your customer base must be adjusted, and to remember to catch differently sponsors – Luc doesn't believe it will be back to "normal", this is an ecosystem disruption, and an opportunity for a metamorphosis.
MEMOSIAN Anthony Moore spoke in detail about one of the less-obvious to outsiders challenges to the Australian sports model with the pandemic shut down. With the rapid decline in work around the country for everyone, the Australian government enacted a program to allow companies to pay wages without earning. This was a lifesaver for companies and organizations. For Federations, this looked like closed offices, the obvious loss of revenue, and a pause in grassroots sports programs.  With grassroots programs down, the "lifeblood" of Sport in Australia was completely closed – stopping the base program of Sport and putting a hard stop to the usual forward movement of athletes, coaches, and fans from the grassroots level on up.
Professor Luiggino Torrigiani was our final guest and joined to discuss the importance of organizations following Sports trends. The population's access to tech is continuing to increase (a point further bolstered by MEMOSIA San Haddad), he predicts we'll move further into digital disruption and more and more artificial intelligence.
Alumni, stay tuned for updates on the Alumni Facebook Group. Alumni LinkedIn Group, and your email. Not getting the updates? Email us to make sure we have your information: graduates@memos.degree