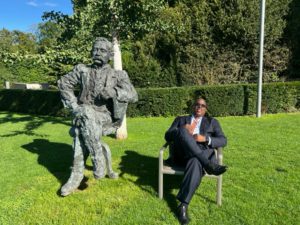 Recap: The October Coffee Break with MEMOSIAN, Uganda NOC President, and MEMOS Professor Donald Rukare
On October 27th MEMOSIANS around the world logged into Zoom for a MEMOS Coffee Break with Professor Donald Rukare, the NOC president of Uganda and a MEMOS VXIII graduate. Dr. Rukare took us through the history of Ugandan Sport – and some insights into the changes they've gone through and where they will be going.
Uganda joined the Olympic Movement in 1956, while still under colonial rule. Sport was focused on athletics and boxing and remained armature through their independence in 1962. Sports clubs were primarily through organizations like the police. Without a plan there was slow progress until the Ugandan civil war in the 1980s when it stopped, as Dr. Rukare said, "Sport thrives when we have peace and financial stability in our countries".
In the late '80s, there started to be more focus on Sport again. Today, there are 53 registered sports – 33 of them Olympic Sports. At first, organizations were family-run and still mostly amateur. A slow process of embracing their strategic plan for more professional training for their membership sports organizations has continued to grow and pay off. Today, most federations have a professionally trained administrator working with them. Uganda earned the most medals in an Olympic Games in its history during Tokyo 2020 – 4 medals. There are also more women than ever in Sport (with improvements being consistent).
Moving forward, Uganda is focused on more partnerships, more inclusion, better policies, and more professional sports training and athletes. Dr. Rukare's MEMOS project informed their NOC that more policy was needed on the federation level, and the NOC is now actively tracking data to see changes and check its progress against the goals outlined in its strategic plan.
Several MEMOSIANS asked questions, including wondering what Uganda's biggest challenges are today. Dr. Rukare said that budgets and the framework of the organizations are the most constant challenge. Another question (grassroots vs. pro athlete groups) led to a discussion on Dr. Rukare's value in grassroots sports: "Sport's oxygen is the grassroots movement".
For more on the Uganda Olympic Movement, you can visit their website at: www.nocuganda.org/
Or follow them on social media! www.facebook.com/OfficialUOC
The MEMOS Coffee Break is an independent project by MEMOSIANS Marco Mazzi and Filippo Bazzanella. If you are a graduate and you've been missing the emails with the Zoom links in them, please send us an email at contact@memos.degree so you can join the discussions.