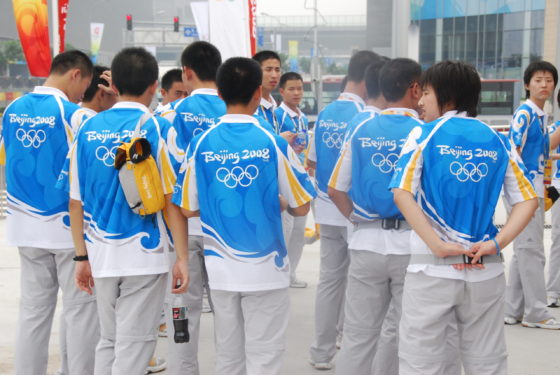 MEMOSIAN 

Discussion :

Opportunity at the Olympic Games by Sylvain Leclerc
On May 1st, on International Workers' Day, the IOC published on its Website an article entitled "Olympic Games offer young people key skills to enter job market" and a 40-page guide entitled "The Olympic Games: a springboard for young professionals". Reading the article and the guide, I immediately recognized myself, the Sylvain Leclerc from 2007, about to embark onto the most fascinating experience of my young professional life: moving to Beijing, China, for one year in order to work for the 2008 Organizing Committee of the Olympic Games… a year that changed my life forever!
A bit of context here, through the collaboration of the Canadian Embassy in China, I had been recruited to work on the translation division of the OCOG's international relations department. First as just an intern (that subsequently led to a contract with the organization). Back then, I was a sport journalist for the "Réseau des sports" (the French Canadian equivalent of ESPN). I had covered, from the network's headquarters in Montréal, the Salt Lake City, Athens and Torino Games. Given the English/French context in Canada, I was doing a lot of translation at RDS but had never studied it, so I wasn't an expert in that field, but I was an Olympic sport encyclopedia… I was so happy and proud to the "sport Wikipedia" on the team.
Between August 2007 and September 2008, I had the immense and unique privilege to see the last phases of the staging of the first Olympic Games in China. Their first Games, their way to put China on the map, the project of a whole nation. Every single employee who works for an OCOG for the first time for Games to be held in their country feels a lot of pride. But in Beijing, it was pride times a hundred, the pride was overwhelming, something I had never experienced before in my life, I was just in awe… they all wanted to be best because of what the Games represented for their country and their career after the Games (such a "badge of honour" on their resume was just pure gold!). 
Even us, as humble "laowai" (informal term for foreigner in mandarin), felt the immense pride and honour of regular Chinese people; whether in taxis, subway, restaurants, while sightseeing and traveling, when/where ever we were telling we were working for the "Er ling ling ba Àoyùnhuì" (2008 Olympics) when asked what do you do in China, people would often thank us for we were doing for their country … again something I had never experienced in my life. That was really touching, I was realizing on a daily basis the real meaning of the impact of the Olympic Games on people. That transformed me and gave me even more fuel to contribute positively and actively to the growth of the Movement.  
But working in Beijing wasn't always a piece of cake; adapting to a different working culture, in a context where I didn't speak the language (despite my best efforts to learn it), didn't know any of the local code and didn't have any social network to help navigate through this unknown environment. It was a daunting task. Fascinated by this mysterious country with such a long and rich history, I ran into this journey as fast as Usain Bolt running through the 100-meter finish line, head first, full speed, without any hesitation… without really knowing what I was putting myself into. And though I didn't have any expectation, the task ahead of me proved to be way more difficult than "expected". 
At times, the challenge of adapting to this new world looked insurmountable and often felt discouraged and inapt. It was frustrating and I wanted to quit… leave and go back home. But, like in all stories that end well, I didn't quit… Because not going to the end of it, despite all the difficulties, it's just not me. And because of what the Olympic Games meant to Chinese people… I didn't know the big majority of the 7000+ OCOG staffer, I didn't know any of the 1 million Games volunteers, I didn't know the proud people I and met on the street who thanked me, offered me treat and took pictures with me because I was working on the Olympic project, but I just couldn't let them down. I couldn't let me down. Though I was just a "laowai", I felt I was part of Team China. In some way, it had also became my project.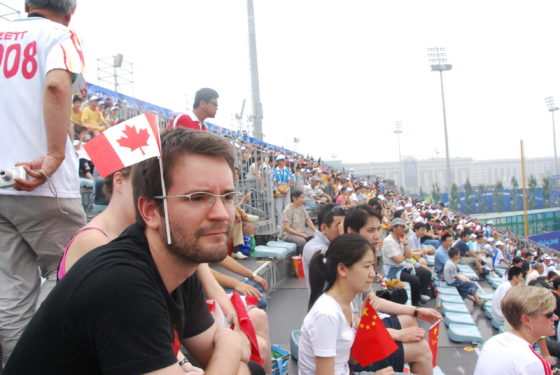 More than any other sport teams I had been on before in my life and my other jobs, my time in Beijing truly learned me the concept of team work and (international) cooperation to reach higher goals (during the Games, the translation team comprised more than 100 employees, from China, Canada, France, Switzerland, Belgium, Egypt, Haiti, to name a few). Being exposed to a real multicultural environment for the first time, it taught me to really learn to enrich my (back then somehow limited) perspective by listening and respecting the others' perspectives and realities. 
By working and living a regular "Chinese way" daily life, learning their way of life, history and life philosophy by traveling all across this magnificent country, it taught me the best lessons I needed at that time in my life; a greater deal of understanding, resilience, patience, letting go…. It also highly enhanced my ability to communicate with my hands and fingers, the only way to get around in basically every situation when you speak less than 100 words of Mandarin… that's what I call creativity at its best! 
As many of my Chinese colleagues, my journey with the 2008 OCOG greatly enhanced my employability in the Movement. It was that one first experience that then allowed me to work on the 2010 Vancouver Games (my first Games in my country) and the 2012 London Games for Canada's official Olympic broadcaster as a field/associate producer, and then with the Canadian Olympic Committee in Sochi 2014 and Rio 2016, on the communication/media team. That journey also led me to attend the 2011 Young participants session at the International Olympic Academy, to work on the 2013 IOC session in Buenos Aires (where president Bach was elected and Tokyo selected) and then, of course, to complete the best international masters program with the best people in the world (aka MEMOS), which led me to conduct seminars and conferences on Olympic communication and marketing internationally. 
But till that day, despite all these incredible and amazing next experiences in the Olympic Movement, that one-year experience in the Chinese capital, is my most striking and memorable "mission" of all. Because it's the one that changed me the most (in my core) as a human being; it redefined who I am today and allowed me to become a better person. And to me, this is what matters the most. 
Do you have a topic you would like to see discussed? Send us an email: contact@memos.degree