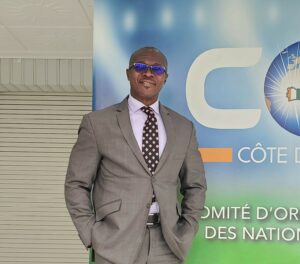 MEMOS Coffee Break with Essan Emile Ngoran of AFCON
MEMOSIAN Essan Emile Ngoran from Côte d'Ivoire (MEMOS DESS in French 2013) joined host Marco Mazzi for the March Coffee Break.
Mr. Ngoran has been the Director of the Basektball Federation, Chef de Mission for Beijing in 2008, and is now leading the Africa Cup of Nations (AFCON) 2023 events in Côte d'Ivoire.
AFCON started in 1957. With futbol as a major sport in African countries, this event has a long history of being a fan favorite and is a perfect match for the fans in Côte d'Ivoire. Fans also enjoy other sports, the country has a strong Basketball program, and strong Taekwondo program – a sport that gained popularity following their 2016 gold medal in the Rio Summer Olympics.
For Ngoran, an African Cup includes African dance, food, and hospitality. It gives the pro-players who usually play in European leagues the opportunity to play in Africa. "It's not only futbol, it's African time."
Fans can look forward to 6 stadiums – 3 refurbished and 3 brand news. 5 cities – each with its own personality, and easy transport in between thanks to new roads. And of course, futbol!
This event is a good connection between the economy, tourism, education, the environment, and business. For more of this discussion including inter-country cooperation, sponsorship, ticketing, broadcasting, security and more; MEMOSIANS can view the entire interview in our alumni groups!