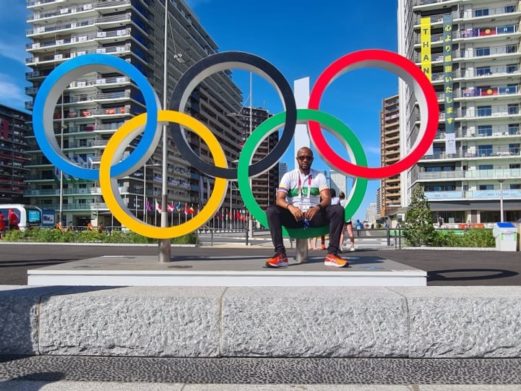 MEMOSIANS at the Summer Olympic Games in Japan
There is no time like Olympic Game time that makes MEMOSIANS shine!
From the new position of COVID Liaison Officer, to NOC Presidents, to Chef de Mission: the Tokyo Village was full of MEMOSIANS bringing their talents, experience, and know-how to the Games.
Here are just some of the MEMOSIANS who were at the Games in Tokyo, many more supported from their home countries. Regardless of where MEMOSIANS were during the Games, we know the MEMOS community was together.
Aboud Said Hilmy, graduated with MEMOS V in French. Position: Team Leader. Country: Comores.
Carlos J Santiago, graduated with MEMOS V in Spanish. Positions: Spartner of a judo player and as a Athlete Commission Chair! Country: Puerto Rico
Gaby Ahrens, graduated with Memos 21 in English. Position: IOC Athletes Commission from Namibia.
Ansen Sligar, graduated with MEMOS 14 in English. Position: Chef De Mission and COVID Liaison Officer. Country: Virgin Islands
Yaniv Ashkenazi, graduated with MEMOS 18 in English. Position: Team Leader for Judo, Triathlon, Archery, Taekwondo. Country: Israel.
Marcelo Braga graduated with MEMOS 18 in English. Position: High Performance/Technical Analyst. Country: Saudi Arabia
Bin Jalawi Alsaud, graduated with MEMOS18 in English. Country: Saudi Arabia
Mauricio Serrato graduated with MEMOS 18 in English. Position: Chief Medical Officer. Country: Colombia
Stravi Bello graduated with MEMOS 5 in English. Position: NOC Secretary General. Country: Albania
Agnė Vanagienė graduated with MEMOS 18 in English. Position: Chef de mission and Accreditation Manager. Country: Lithuania
Karo Lelai graduated with MEMOS 20 in English. Position: IOC Athletes Commission and member of FIBA Central Board. Country: Papua New Guinea
Kliton Muca, graduated with MEMOS 15 in English. Position: Chef de Mission. Country: Albania
Tshering Zangmo, graduated with MEMOS XX. Position: Covid Liaison Officer. Country: Bhutan
Joseph Cassar graduated with Memos. Position: Secretary General, Country: Malta
Wedu Motswetla graduated with MEMOS 20. Position: Secretary General. Country: Botswana.
Cecile Faye graduated with MEMOS 4 in French. Position: Chef de Mission. Country: Sénégal.
Michael Kohn graduated with MEMOS 20 in English. Position: Chef de Mission for Federated States of Micronesia but also Co-lead Oceania National Olympic Committees' Shared Services for the 15 NOCs. Country: Guam
Sengthong Chanthanongdeth graduated with Memos​ 23 in English. Position: ​Press​ Attache,​ proxy Chef​ de Mission​ and Covid Liaison Officer. Country: Laos
Chow King Fun graduated with MEMOS 14 in English. Position: Headquarters Official of HKG Country: Hong Kong
Ana Paula González Horn graduated with MEMOS 21 in English. Position: Head of Operations – Panam Sports. Country: Mexico
Melei Melei, graduated with MEMOS of 23 in English: Position: Chef de Mission Country: Tuvalu
Donald Rukare, graduated with MEMOS 18 in English. Position: President of the Uganda Olympic Committee (UOC) and FINA Bureau member. Country: Uganda
Beatrice Ayikoru, graduated with MEMOS 22 in English. Position: Chef de Mission Country: Uganda
Søren Skaastrup Frydendal, graduated with MEMOS 22 in English. Position: Head of Logistics and Transport. Position: Denmark.
Marco Mazzi, graduated with MEMOS 22 in English. Position: Media. Country: Italy
Sheila Stephens, graduated with MEMOS 4 in English. Country: Canada.
Georgia Fyrigou, graduated with MEMOS 5 in English. Country: Greece
Aurelie Hoeppe, graduated with MEMOS 21 in English. Position: COVID-19 Liaison Officer for the IOC Refugee Olympic Team (EOR) 
Cristina Vasilianov, graduated with MEMOS 22 in English. Country: Moldova
Lazilayana Ezera Tshabangu with MEMOS 21 in English. Country: South Africa
Jan Exner, graduated with MEMOS 18 in English. Position: Covid-19 Liaison Officer Country: Czeh Republic
Hazel Kennedy, graduated with MEMOS 17 in English. Country: Zambia
Natacha Klis, graduated with MEMOS 24 in English. Position: International Relations Manager at the French House. Coutnry: France
Luiza Zlotkowska, graduated with MEMOS 23 in English. Country: Poland
"Citius, Altius, Fortius – Communiter"